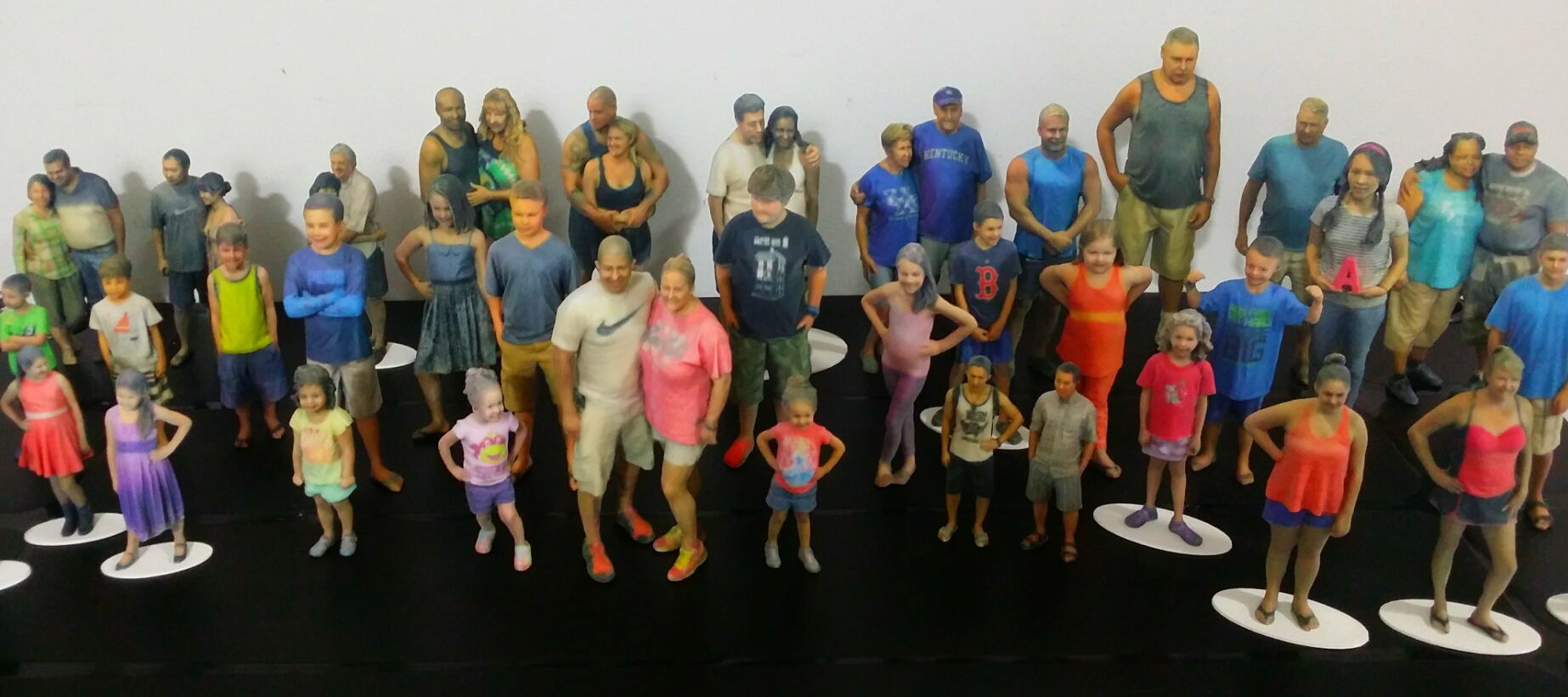 3D Mini Me Pricing
Every 3D Mini Me is custom made using the scan we captured of you. The sculpture can be made in several sizes ranging from 3 inches to over 14 inches tall. We can print your sculpture in full color using the ProJet 660 Pro full-color 3D printer. You can add a base with your name to complete the sculpture.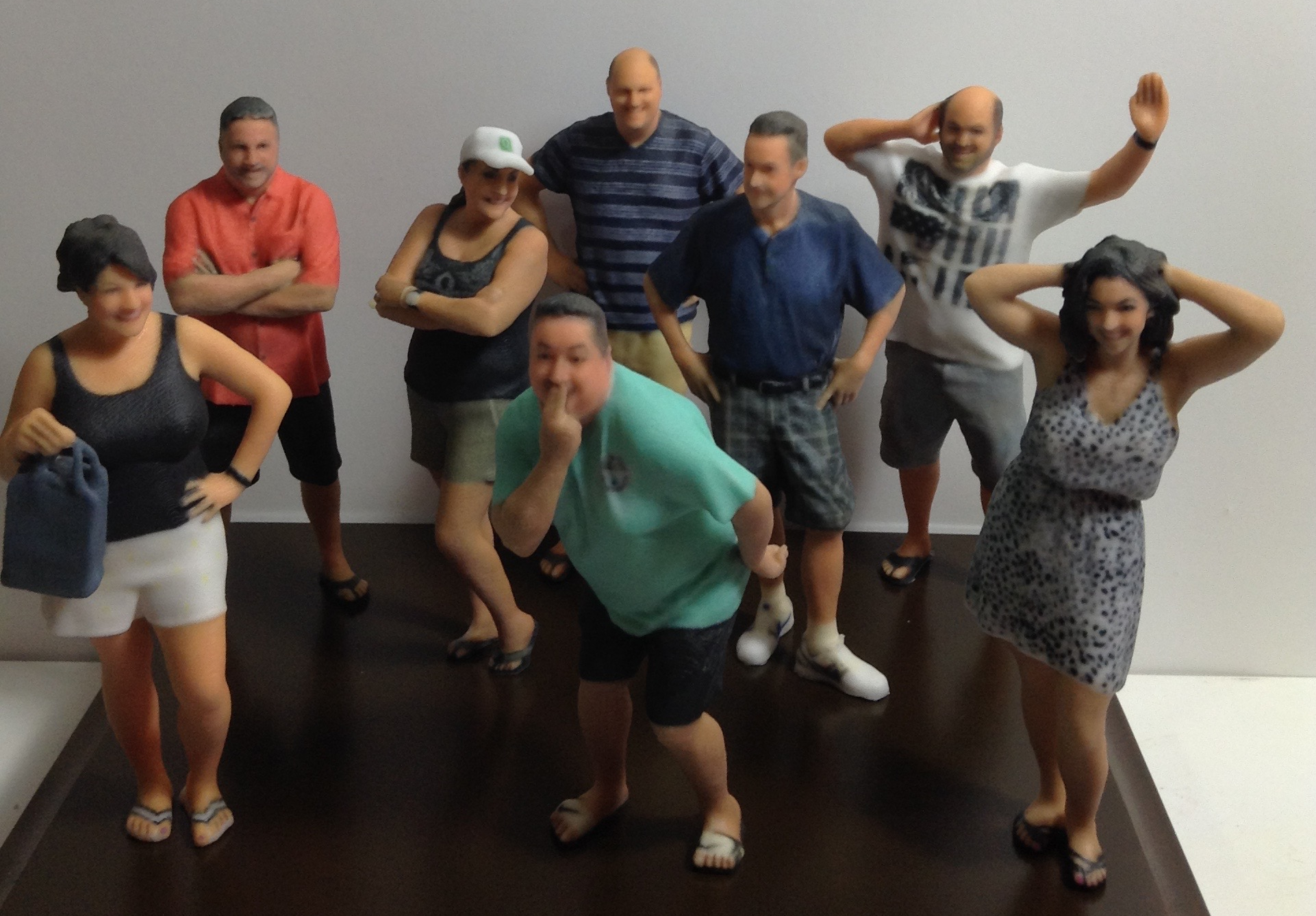 Single Standing Mini Me
Nano 3" $39 Large 7" $199
Junior 4" $69 Monumental 8" $249
Medium 5" $99 Gigantic 10" $349
Mini Me 6" $149 Colossal 12" $449
Jumbo 14" $499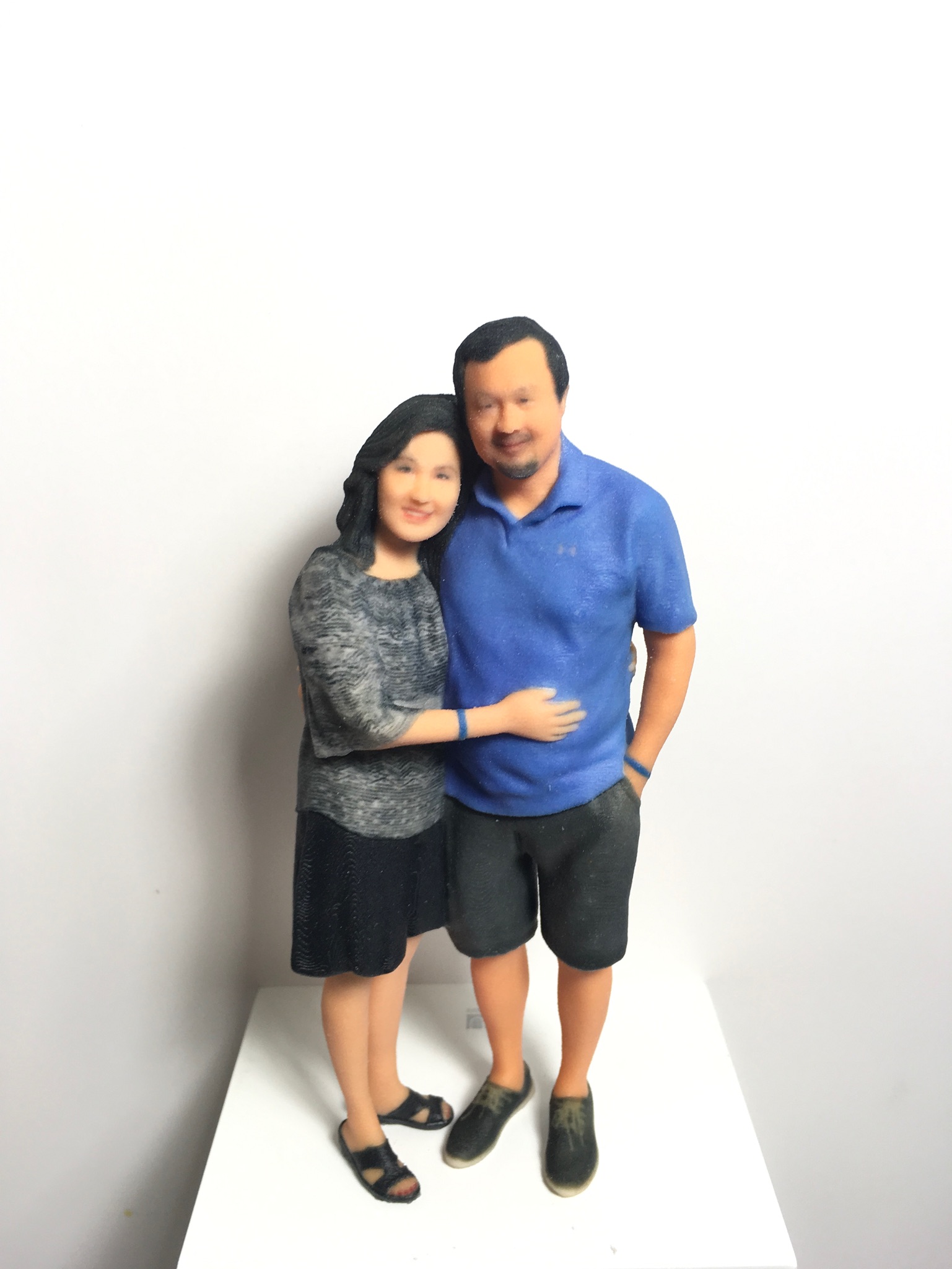 Couples Standing Mini Me
Nano 3" $69
Junior 4" $99
Medium 5" $149
Mini Me 6" $199
Large 7" $279
Monumental 8" $329
Larger sizes available
Couples Sitting
Medium 4" $169
Mini me 5" $219
Large 6" $299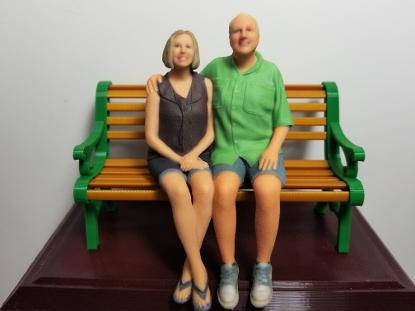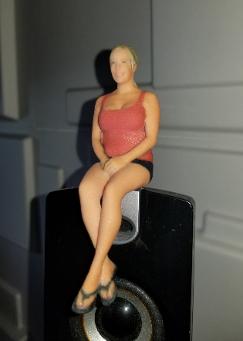 Single Sitting
Medium 4" $99
Mini Me 5" $149
Large 6" $199
Single Bust
Small Bust $59
Medium Bust $99
Large Bust $179
X-large Bust $379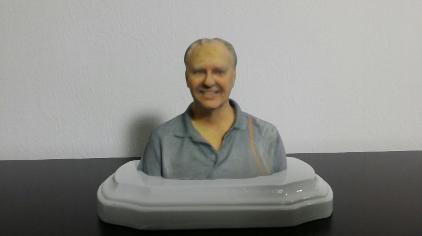 Couples Bust
Small $99
Medium $149
Large $199
Larger sizes available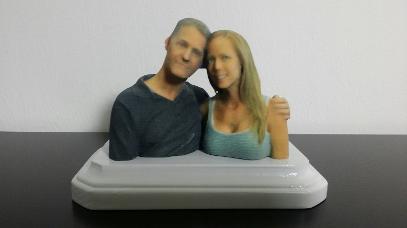 The full color 3D Mini Me will replicate the size, shape, look and clothes of the person who was scanned. Some intricate details, however, will not show up, or might end up being a little fuzzy. Makeup will not really show up in the figurines unless it is very dramatic - very bright lipstick or dark eye shadow. Tattoos will be picked up depending on their size. The general color will probably come out, but the details may not.
The colors in the figurine will be similar to person's clothes and skin, but may not be the exact hue, and usually come out a little darker. Folds in clothes will also come out darker, as a 3D scan is basically a photo, where light areas and natural shadows are emphasized.
Sandstone is the only material capable of full-color 3D prints. Produced on Z-Corp printers, it is perfect for figurines and other products that lend themselves to colorful, high-quality printing. Models are created by printing binder material and colored ink layer-by-layer into a bed of gypsum-based powder. After printing, the models are finished with a cyanoacrylate (super glue) sealant to ensure durability and vivid colors. The final product is a hard, brittle material that works great for figurines and visual models. Models should be handled carefully, and not exposed to water as it will cause fading.
Your full color Mini Me goes through an additional processing step. A matte varnish is brushed onto your product by hand, creating more vivid colors, additional strength, and helps to prevent color fading.
When printing in this material, some variation in color shade is unavoidable, especially with difficult to produce colors such as browns and skin tones. We optimize each print run to make individual models look great, however you may see differences in color when looking at multiple prints of the same model side by side.